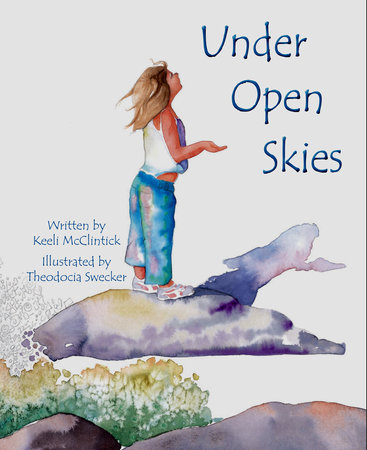 Under Open Skies
2009
Written by Keeli McClintick
Illustrated by Theodocia Swecker
Published by Carnelian Pub.
Ages 2-10 years
Buy now for $15.95 plus tax and shipping
by Keeli McClintick
Sunshine, summer breezes, little creatures, and endless adventures make every day an amazing day in Under Open Skies. From sun up to sun down, one child explores the beauty of one fine day spent with nature as a companion.
It wasn't on purpose!
I initially sketched Under Open Skies seated on my doorstep between sips of coffee. My five year old daughter, Chloe, would begin her day, as many children do, by luring me outside before I could get busy with something else. The book's premise is truly just a typical day in the life of a child. Thus, a poignant connection between the reader and book is inevitable. Not uncommon – but special for sure!
The words lived happily in a stash of "fun writing" stockpiling under my bed. Years later, in a bold moment, I shared my interest in writing and this particular piece with a friend and well known, local illustrator, Teddy Swecker. A partnership was born!
Teddy used the very setting my daughter explored to develop her illustrations -- our yard on the farm. Again, from the doorstep, I watched my now fourteen year old Chloe point out where to find the pieces of her day as a child, the rock path, fallen log, fish pond. That's as much staging as it took for Teddy's young granddaughter, Kepa, to model as Chloe's character. Déjà vu! Under Open Skies chronicles a childhood of pleasures in thirty-two pages.